From Rockingham Forest in UK.
Rockingham Forest is an area i Northamptonshire. Rockingham Forest has been a part of the Leader+EUprogramm as the North West Zealand here in DK. The shelterproject was made as a transnational cooporation in autumn 2007.
Read more about Rockingham Forest here
In Rockingham Forest there was a need for basic huts for taking pupils out in the nature. The solution became The danish hiking Shelter, as we learned our british friends to build form their own materials. They have now build severals.
The head of the british part of the project was Cheryl Joyce.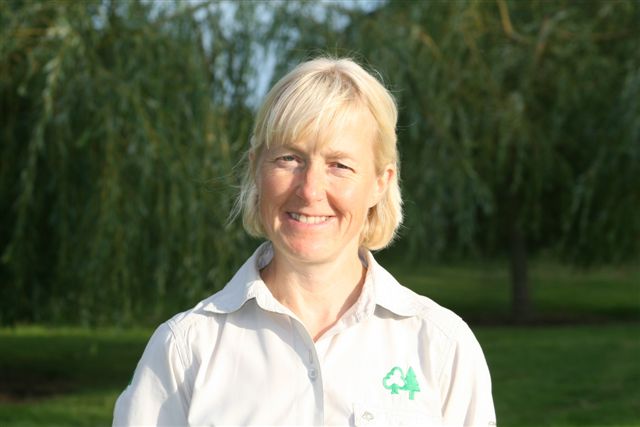 Cheryl is a ranger in RF.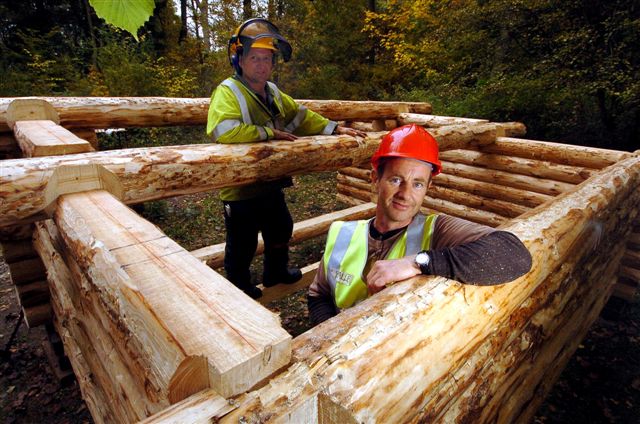 My companion Palle Wisbech went to RF for the training- and practical part of the project. I was too busy writing my book about children and outdoor-living. When the crew from RF and from New Forest had learned the secrets behind The danish hiking Shelter, they could do the finish themselves,- and after that build further shelters.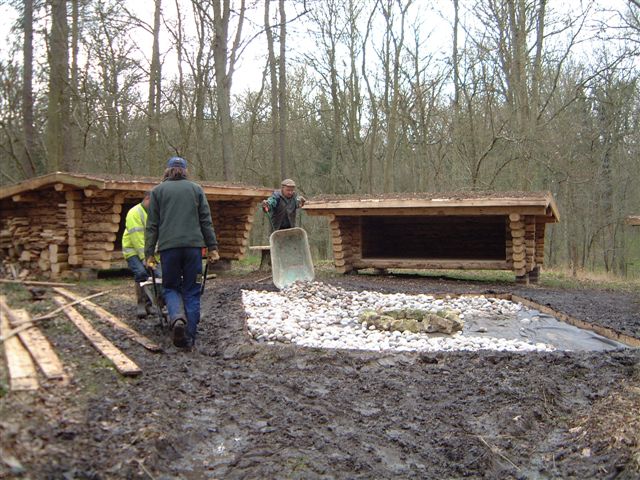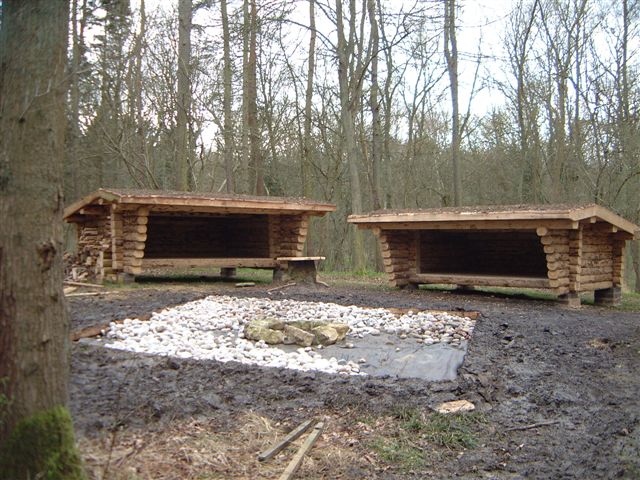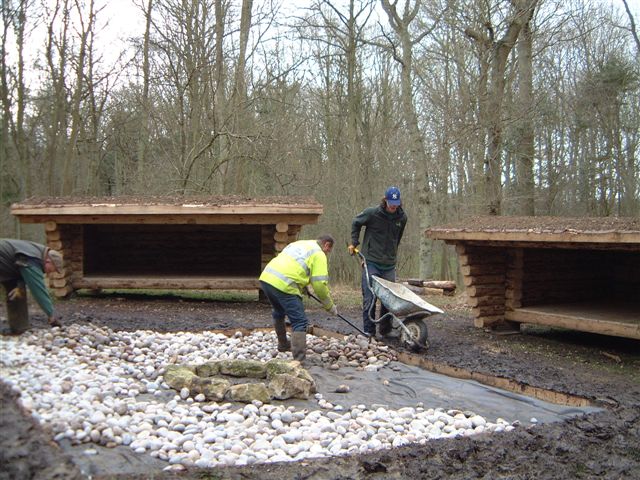 Clive and the craftsmen ... autumnly, rainy and muddy.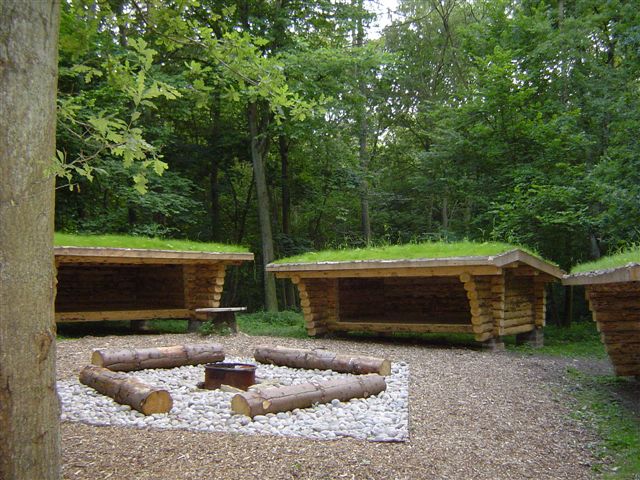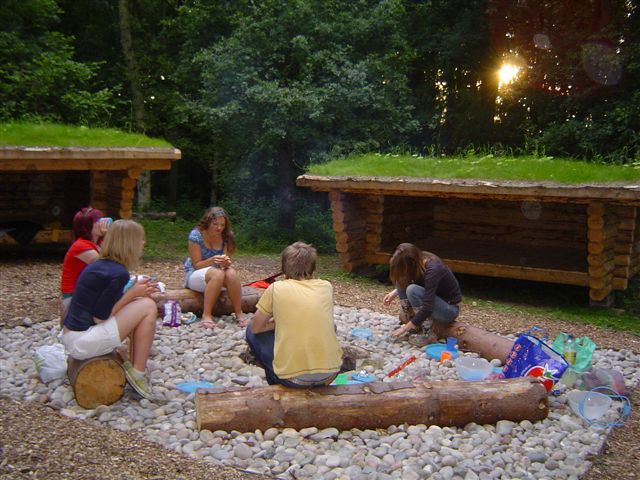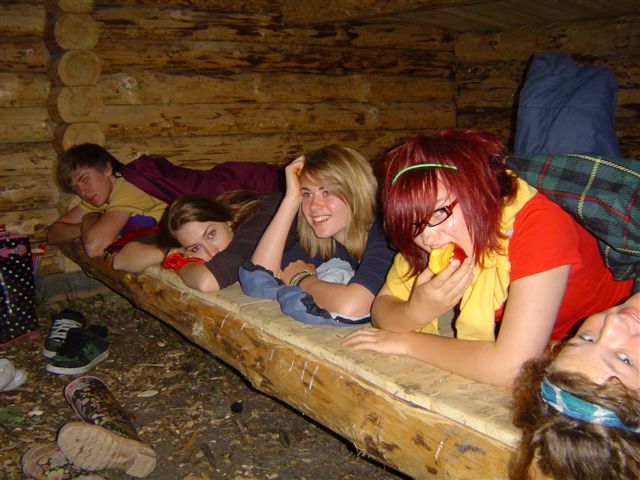 At the summertime..... around the bonfire and in the sleeping bags. I love to see that picture- it's just to be in our own shelter.....

See more shelters HERE ( but in danish... )

See NEWS and our new constructions.

See The shelternet in NWSealand. The shelternet is a part of The north Sea Trail

About the shelternet.dk

The Hiking Network North West consists of three different connected nets:

- The inland network with trails for wanderers, bikers and riders,

- the waterways network of canoe routes on lakes, streams and canals,

- the coastal network, consisting of sheltering sites along the coast for boaters.

The network consist of 20 sites. Each site has been fitted out with three or four hiking shelters each sleeping a large group, but they can also be used by families or lone hikers. They are meant to be used by people travelling on foot, biking, riding or canoeing/cayaking.

The sites are distributed through the region with a distance of 10 to 15 kilometres between each, when the net is fully extended it will contain more than twenty sites.

Today the network consists of 20 active sites with a total of 60 hiking shelters.
The price for staying one night varies from site to site depending on the facilities. Typically dkr. 25,- pr. person in a group on the primitive sites, whereas some sites, situated on the premises of a commercial caravan site will charge this establishment's normal rate. There are special discounts for large groups.

Sites in State Forests are free to use.

Many of the sites can be used during winter, if this has your interest please contact Mr. Steffen Holberg, steffen@heltude.dk